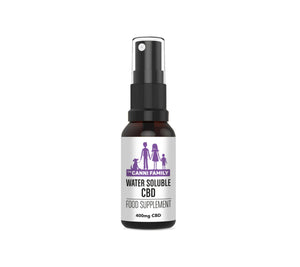 Why we believe you don't need to buy high strength CBD oil!
When Charlie and I started The Canni Family back in May 2018 we had a small range of CBD products that included a 25% classic oil that sold for £98.95.
We sold a lot of this product to customers who were looking for a stronger dose of CBD, however it was costly and after about a year we learnt that taking the oil under the tongue led to a 40-60% level of wastage. 
Why is there so much wastage with CBD oil?
Regular CBD oil products and cannabinoids are fat soluble and are mainly degraded by the stomach if it is not absorbed under the tongue, 3 drops is the most you can feasibly absorb in this way. With the CBD oil there is always an amount that is lost down the side of the mouth and into the gastric system which means it doesn't reach the bloodstream when taken under the tongue. So we went on the hunt for a more effective and well priced options.
We invited our regular customers, who had been purchasing our 25% oil, to try this water soluble version for half the price and all of them found that it was equal or superior to the oil for their requirements. So we dropped it! Not a great financial decision but it was the right decision for our customers to ensure that they got the most CBD for the best price.
Why is Water Soluble CBD faster acting and more cost effective than CBD oil?
Water-soluble CBD is the drinkable alternative to regular CBD oil and includes some of the most powerful healing substances found in nature. Inspired on the original and primal hemp plant, containing cannabinoids such as CBD, CBC, CBN and CBG. It is enriched with tasty terpenes as: Curcumin (unless you chose our version with out), Myrceen, Caryophyllene, Pinene, Limonene, Linalool and vitamine E. These carefully selected ingredients and their unique composition make CBDactive+ one of the most complete CBD products available today; and support the product's entourage-effect. 
For example 1mg of our Water Soluble is the equivalent to 20mg of oil due to its bioavailability and is comparable to a regular CBD oil with 40% CBD which would set you back over £200 for a 10ml bottle. Our Water Soluble Spray is £42.95 for 10mls and contains 50 sprays. 
Why our customers love our Water Soluble CBD range!
Our Water Soluble blend now comes with Curcumin (Turmeric root) or without Curcumin (Turmeric root) and both dissolve into any drink or food, making dropping under the tongue a thing of the past. It also tastes a lot nicer. 
Our latest version of this popular Water Soluble CBD which doesn't contain Curcumin (Turmeric Root) ensures that no additional flavouring is added to your cherished cuppa and it can be added to any food or drink - you can select 'without curcumin' above for this version! Also if you don't like the taste of CBD oils and sprays this one has no taste when added to a drink or food.
If you would like to learn more about why we believe our water soluble is an innovation and what we mean by bioavailability you can read our blog which explains this in more detail.
Thank you for reading our blog and if you are interested in trying any of our products please use the code CBD20 for a 20% discount on your first order at checkout.
---