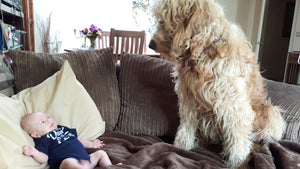 Why we should all learn to be a bit more dog!
Our Canni Goldendoodle Harry has surprised us in many ways in the last 8 years. However, after being diagnosed with a very rare inoperable tumour he has defied the odds and is still with us to celebrate today. So we are dedicating this issue to our beloved dog and share some of his story with you and how plant medicine has played an important role in his health.
Ways our Goldendoodle has surprised us since day 1
Firstly because we were told that he would be no larger than a spaniel, 6months later we are having to buy a new car as he got car sick sitting up in the back and is now 35kg and looks like Chewbacca on happy juice.


Dog is just God in reverse and here's why......
Secondly because we decided to get a dog because we were told, in no uncertain terms, we couldn't have children, cut to 6months later - pregnant by some miracle (perhaps this is why Dog is God in reverse;) It seems crazy to think that this may have had an influence but there are so many cases of people trying for years then giving up, getting a dog and then boom.


Dogs don't judge
Thirdly after our son was born harry showed no jealously towards him but seemed a bit bored, We took him to be assessed as a Pets as Therapy dog, he passed and proceeded to go into school and hospitals across London helping children with special and behavioural needs (oh and stressed out Uni students!) He loved it getting all that attention but what surprised us most was the bond he formed with some of the children. One little girls who had Severe Downs Syndrome and never spoke used to talk to Harry, it was a humbling thing to witness the power animals have over us.


The heartbreaking news about Harry
However when he was finally diagnosed with an inoperable nerve sheath tumour (which are very rare) back in February 2022 we surprised and heartbroken. After months or operations, rehab and physiotherapy it was clear that the knee was not the problem. The specialists had missed a tumour in his hip which was now growing into his spin which meant his left hind leg was slowing wasting away. We were asked if we wanted to euthanise as 'most people did at this stage' and that is why there is little real understanding of how long a dog can live for but we said we would like to take him home for his last few weeks, possibly months.


What a difference a year makes........
One year on and that dog has surprised us again! After some very helpful advice from a US veterinary specialist we decided to see if we could do anything ourselves to help him. We all agreed that as long as he was happy (still able to do all the things he enjoyed), not in pain (or on prescription medication that had worse side affect or made him dopey) and that he was checked regularly by a vet or physio we would see how he did. 


Harry is on prescribed Gabapentin, Paracetamol and Metacam, however on the advise of a specialist US Vet we gave him high daily doses of CBD (great for any mammal with a spine) and Turkey Tail Mushrooms which have been proven to fight cancer and help with inflammation. 


Life on three legs
The Vet that finally diagnosed him a year ago saw him again 9 months later and was surprised as his stoic nature. Harry's love of life meant he literally moved the other back leg in to the middle and got on with life on three legs. The physio has confirmed he is not in pain or discomfort and he seems to have built up strength to the point where he can keep up with a puppy's play.


Whilst we are not naive in thinking that Harry will live forever we are just so grateful that we have had this extra time - we would never condone keeping any animal alive who is not able to enjoy themselves but we have found hope in what felt like a hopeless situation.
Harry's Rules on Life 'How to be a bit more dog!':
1. No matter what life throws at you, work with what you've got!
2. Cheese is King;)
3. Comfort people when they are sad (no need to say anything, just a head in the lap will do;)
4. You can make new friends all the time, just sit on their feet so they can't move! 
5. Dodgy breeders will tell you anything to get you out of the door, hence a dog who is the size of a pony!
6. It is possible to bring joy to those you meet by being you (especially if you are very hairy and overly friendly;)
7. Never give a dead pigeon back (Park in Dublin…... you had to be there!)
8. It is never too cold to swim!
9. Live in the moment - Dogs are brilliant at this!
10. There is always time for a cuddle.


We salute you Harry and hope that we remember to appreciate the time we have with you, your a very special and dear animal to us and the love you have given has been immense. 


I look forward to all those driveways you've still yet to drag me down when you see a cat, the holes you will dig to just to bark into and the relentless love you will always show everyone around you!
Thank you for reading our blog and if you are interested in trying any of our products please use the code CBD20 for a 20% discount on your first order at checkout.
---