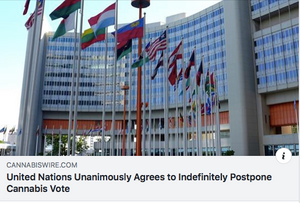 Why the UN's decision to unanimously postpone the Cannabis vote is a huge blow!
This week we received the disappointing news that the United Nations have made the decision to delay indefinitely the vote on de-scheduling Cannabis.
The World Health Organisation (WHO) stated in an open letter to the UN, back in February, that it is their recommendation that Cannabis should be de-scheduled.
The World Health Organisation Expert Committee on Drug Dependence (ECDD) released a 
report
 on Cannabis extract showing evidence that not only is it safe but highlighting that it isn't addictive. The report also highlights that no public health problems, like driving under the influence have been associated with Cannabis extract. "In humans, Cannabidiol exhibits no effects indicative of any abuse or dependence potential," wrote the World Health Organization, a U.N. agency that focuses on public health. 
What would happen if Cannabis was de-scheduled?
If Cannabis were to be de-scheduled it would not only remove the current red tape that surrounds medical cannabis being prescribed to those who need it but it would also reduce the risk of people buying the product illegally and risking what has been identified in the a recent report as a significant link between high strength illegal cannabis and psychosis in some individuals.
This illegal product is forced to grow using pesticides and poor soil leaving trace metals in the plant. It is then cut down very early in its growth cycle which means the product consists of virtually all THC and no CBD which produces what is know on the street as 'Skunk'.
Would everything go to 'POT' if Cannabis was legalised?
If Cannabis were legalised and regulated it would give people the option to purchase high quality products safely, it would not remove the black market  entirely however it would allow people a choice they currently don't have. It would also generate thousands of pounds in taxation to support our education, policing and health care systems, as seen in those countries who have legalised Cannabis.
It would also resolve the issues surrounding the classification of high quality CBD products which have also been identified by the WHO as fit for human consumption and in no way a danger to health.
It is hugely disappointing news as the next available date for a UN vote  on this matter is December 2019 and that is still hanging in the balance. This plant, when treated with respect, grown appropriately and legally regulated can help thousands but right now it is still a political hot potato which shows no sign of being resolved in the near future. 
Thank you for reading our blog and if you are interested in trying any of our products please use the code CB10 for a 10% discount on your first order at checkout.
---