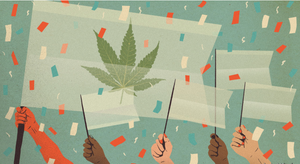 How has COVID–19 affected the Cannabis Industry?
The Canni Family and COVID-19 
When the global pandemic hit we, like many other small business owners, were concerned about what impact this might have on us as a family and on the CBD industry as a whole.
We can now say that apart from some alternations in how we process and fulfil our customer orders, in order to ensure we were addressing COVID-19, The Canni Family managed to keep the business going and gain more customers. Our supplier in Holland kept a steady stream of products coming through to us and we were all able to be at home together as a family.
Unexpected positive outcomes for the Cannabis industry during the Pandemic
What we didn't anticipate and we're delighted to see is that countries like Holland and some states in America and Canada, where Cannabis dispensaries are legal, deemed these to be essential stores and they were encouraged to continue trading during 'lockdown'.
In the UK CBD is classified as a Food Supplement not a medical product and as such this meant that The Canni Family could still continue trading during lockdown along with other food stores.
Does this mean we will see legalisation of Cannabis for recreational use in the UK sooner than expected?
Back in 2019 we asked a number of respected experts in the Cannabis industry when they believed we could expect to see the legalisation of Cannabis for recreational use in the UK
The consensus at the time was that it would be around 5-10 years before this might happen in the UK. This was mainly due to the botch job of legalising cannabis for medicinal purposes which is still failing to deliver cannabis products to patients that had been prescribed this natural remedy for a number of chronic conditions.
We also believe that if Labour had won the last election we may have found them to be more open to legalisation especially if Corbyn had remained as he has always held the belief that it should be legalised. Infact his son owns a cannabis product store in London, but sadly this won't ever be a priority for a conservative government.
If the US elections don't go Trumps way his competitor has already stated that he will legalise cannabis for both medicinal and recreational purposes as soon as he is elected.  
A map of those countries that have legalised Cannabis
How has COVID–19 affected the Cannabis Industry and future legalisation?
Uruguay has become well known for its position as a global cannabis pioneer. The country owes this reputation to becoming the first country in the world to legalise the recreational use of cannabis. Since the legislation was introduced in 2014, only one other country, Canada, has legalised the drug at the federal level. However, the motion is being increasingly replicated in other countries around the world, including New Zealand and Luxembourg.
In conclusion the pandemic has actually shone a light on the importance of Cannabis as 'an essential' item and has led many countries to reconsider and put Cannabis legalisation back on the political agenda.
We can only hope that the UK start to really acknowledge and take steps to decriminalise this plant and recognise that Cannabis should be available and legal, in all its forms, if a person wishes to use it to improve both their physical and mental health.
Thank you for reading our blog and if you are interested in trying any of your products please use the code CB10 for a 10% discount on your first order at checkout.
---